Dining
Savor daily specials and high quality, fresh ingredients
Each of our three on-campus venues offers a different menu and a unique atmosphere.
Serving up meals and memories
Dining is a personal experience, whether you're eating at home or in a restaurant. We strive to exceed our residents' expectations through freshly prepared recipes made from scratch. Enjoy a quick bite in the bistro, or choose from three entrees which change daily, plus a Chef's special, appetizers and specialty salads in the restaurant for dinner. Look forward to unique events featuring theme meals and festivities. We're able to accommodate special diets upon request, and delivery options are available. Input from residents enables us to create delicious and memorable dining experiences.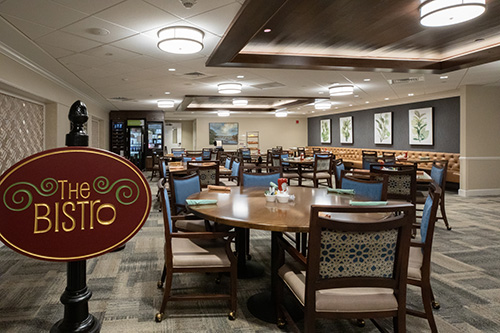 Sample from the salad bar, select the soup of the day or opt for a hearty sandwich. Hours: Monday-Saturday, 8 a.m. to 6 p.m., and Sunday, 2 to 5:30 p.m.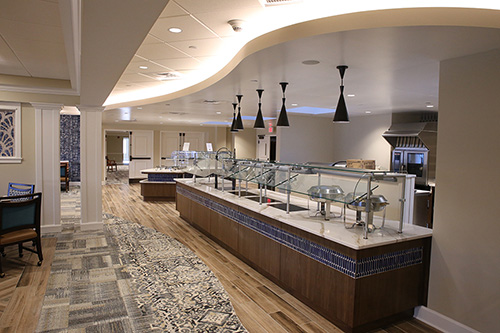 Choose from a chef's special or the daily menu. Dine with friends or solo. Don't forget dessert! Hours: Monday-Saturday, 4 to 6 p.m., and Sunday, 11:30 a.m. to 1:30 p.m.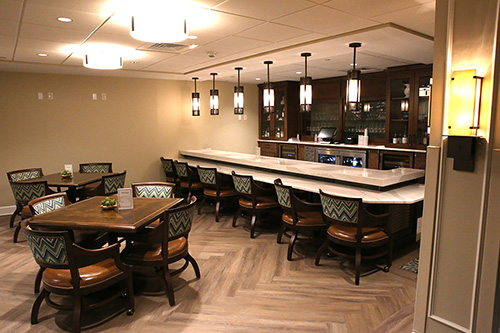 The pub is a great place to meet a friend and relax the night away.